Queen Regina, formerly known as the Evil Queen, and briefly known as Wilma and Ursula, is a character on ABC's Once Upon a Time. Evil Queen Regina Mills is portrayed by LanaParrilla and has been praised by critics for her role as the series's first major antagonist. She has become a fan favorite since her debut.
Lots of girls would often like to wear this cosplay costume of the main character Evil Queen Regina Mills in order to get an awesome look. Now let's take a quick overview of Evil Queen Regina Mills cosplay costume.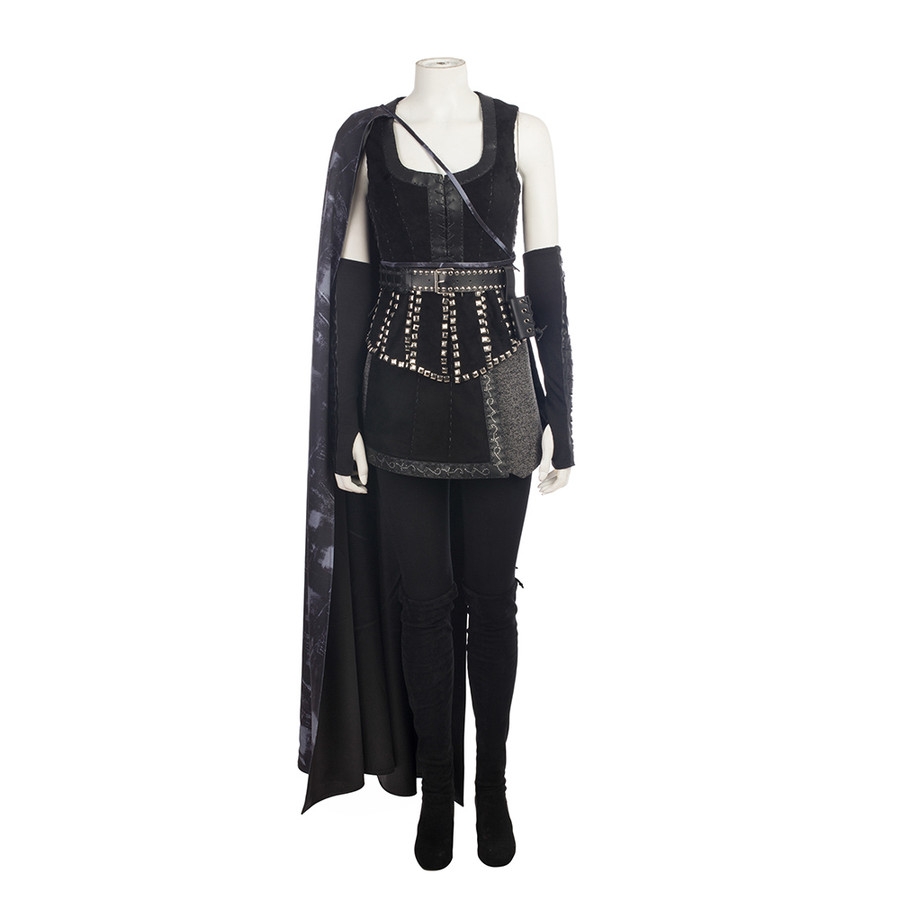 ONCE UPON A TIME EVIL QUEEN REGINA MILLS COSPLAY COSTUME
Cloak:
Made of printed suede, the cloak features folding design on the upper part and tie across the chest with a thin strap, just covering the right shoulder which looks unique. The Evil Queen Regina Mills must look cool in this cloak, so as you dress up The Evil Queen Regina Mills cosplay costume.
Vest:
The double-layer vest has a complicated design with many kinds of materials gathering and unusual forming. First, the vest has a square collar with a leather border. There are three places that use cross straps closure, one at the front chest, two at both sides of the underarm. Take a close look at the detail that leather stitches decorate every single dart seam. The bottom part of the vest is designed as flower shape and every "petal" has a rivet edge. You will shine when you dress up the Evil Queen Regina Mills cosplay costume.
Skirt:
The mini skirt is a mixture of black suede and gray leather. It has no pleat but has an embroidered edge which gains a sense of elegant. The pieces of rivet "petal" cover the skirt and as the decoration in a perfect way. The fashionable Punk style of the Evil Queen Regina Mills cosplay costume will make you so attractive in cosplay show.
Belt & Scabbard:
The belt is also decorated with many rivets, matching with the vest and looking like the Punk style. A black leather scabbard hangs on the belt and it's unique for designing as cross-strap closure.
Gloves:
The long gloves form with two parts. The inner part is made of knitted for comfortable. The outer part is made of black PU leather and stitched with many belts and rivets. The gloves have no fingers and just cover the palm. With these fashionable gloves, you will make an impressive look in the Evil Queen Regina Mills cosplay.
Stockings & Shoes
Don't forget these accessions. They completing the Evil Queen Regina Mills cosplay costume. For their simple design, they can be used in various events.
If you want to cosplay as the Evil Queen Regina Mills, then this cosplay costume is definitely for you. You can find a high-quality NieR 2B cosplay costume on hqcosplay.com. We do provide various cosplay costumes with very fast shipping and low price.