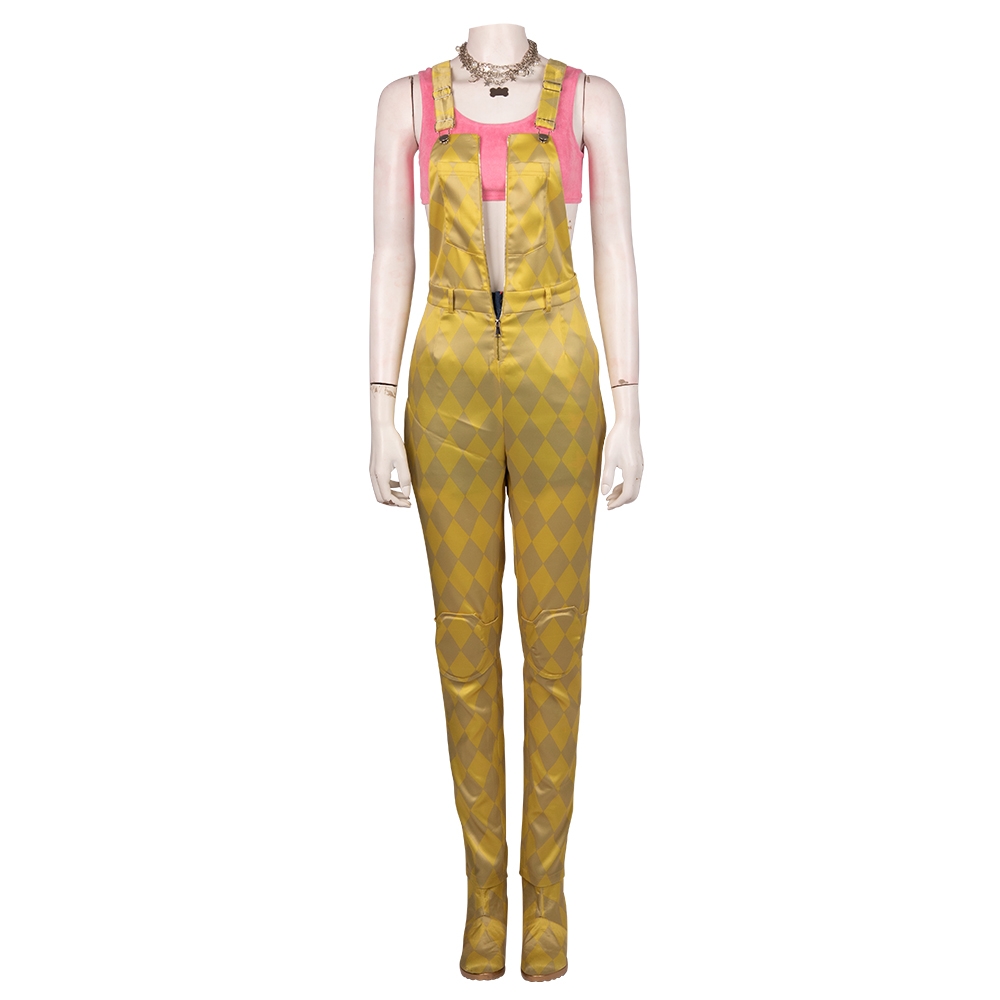 Birds Of Prey is an upcoming American superhero movie. For a long time, Harley Quinn was originally a psychiatrist also Joker's aid and she fell for the Joker. But since the events of Suicide Squad, she finally got free of the Joker. Birds of Prey follows Harley Quinn as she joins forces with Black Canary, the Huntress, and Renee Montoya to save Cassandra Cain from Gotham City crime lord Black Mask.
One of the most exciting things of the movie Birds of Prey is that the gorgeous Harley Quinn wears incredibly the latest costume which is available in HQCOSPLAY online store. Beyond looking amazing on stars Margot Robbie, Harley Quinn's golden vibe pants costume is also pretty attracting, the same to girls who want to be as deadly as ever in a Harley Quinn costume.
Here starts the list of apparels you will need to make an impressionable Harley Quinn cosplay costume from the upcoming movie Birds of Prey.

Bib Pants
These eye-catching golden bib pants give Harley Quinn a new look, apart from red and blue themes before. Maybe it's a sign of Harley Quinn's new life and adventure in the new movie Birds of Prey. Anyway, these pants are made of satin weave fabric with diamond patterns, just like the original costume that will make you stand out from the crowd of cosplay party. The pants feature high-quality metal buckles on the shoulders and shiny zip closure that goes up the whole length of the front and separates the big front pocket into two equal parts. These functional pockets provide you useful help. For the pants part, it is designed in the fit style and stitched with thick plates as knee-guards, keeping original looking in details.
Vest
Harley Quinn wears a shocking pink short vest, short to the breast. This vest breathable cotton fabric, imitating a gym vest style. It provides comfort for you that you will enjoy your cosplaying all day long. The vest is not just wonderful for Harley Quinn cosplay costume, with quality material and nice sewing, but even can be worn in daily life.
Shorts
Under the bib pants, they're rarely shown though, the denim fabric made shorts go up with the vest in a hot style. Dark lines and red stars patterns are inspired by the American flag. They stay original elements of Harley Quinn costume.
Shoes
Matching with the bib pants, the ankle low heel shoes are all covered with diamond patterns. With the soft inner lining, you will feel comfortable while walking. They make you look professional in the Harley Quinn costume.
Necklace
The necklace keeps the original looking with exclusively handcrafted by skillful workmanship. It's so lovely and not just perfectly suit for Harley Quinn costume, but also can co-ordinate with your daily attire.
By wearing this trendy and stylish costume, you will simply reflect your admiration for smart Harley Quinn. So shop the Birds of Prey Harley Quinn cosplay costume at hqcosplay.com now! The exquisite material and craftsmanship on it can make you appear more unique.