Scarlet Witch is a superhero of the American Marvel Comics, whose name is Wanda Django Maximoff. Her original story is numerous, and the latest story in her comics was when she was kidnapped by the High Evolutionary as a subject with her twin brother, Quicksilver, and gained the Chaotic Magic (creating and quenching matter) and the ability to modify the probability. Later, the two were deceived and heard that they were the children of Magneto. The mother abandoned them and the lady who gave birth gave them to the Gypsies. She and her younger brother joined the brotherhood of the mutants led by Magneto. After learning the truth and rectifying the situation, she joined the Avengers. And met the Vision, also a member of the Avengers, and the two fell in love and became a couple.
In the Marvel Movie Universe, she was adopted to be a twin sister of Quicksilver (12 minutes later than the Quicksilver). She joined the Avengers after defeating Ultron because she was involved in the secret test of the Hydra with her brother and was given superpower by the jewels on the Rocky Scepter.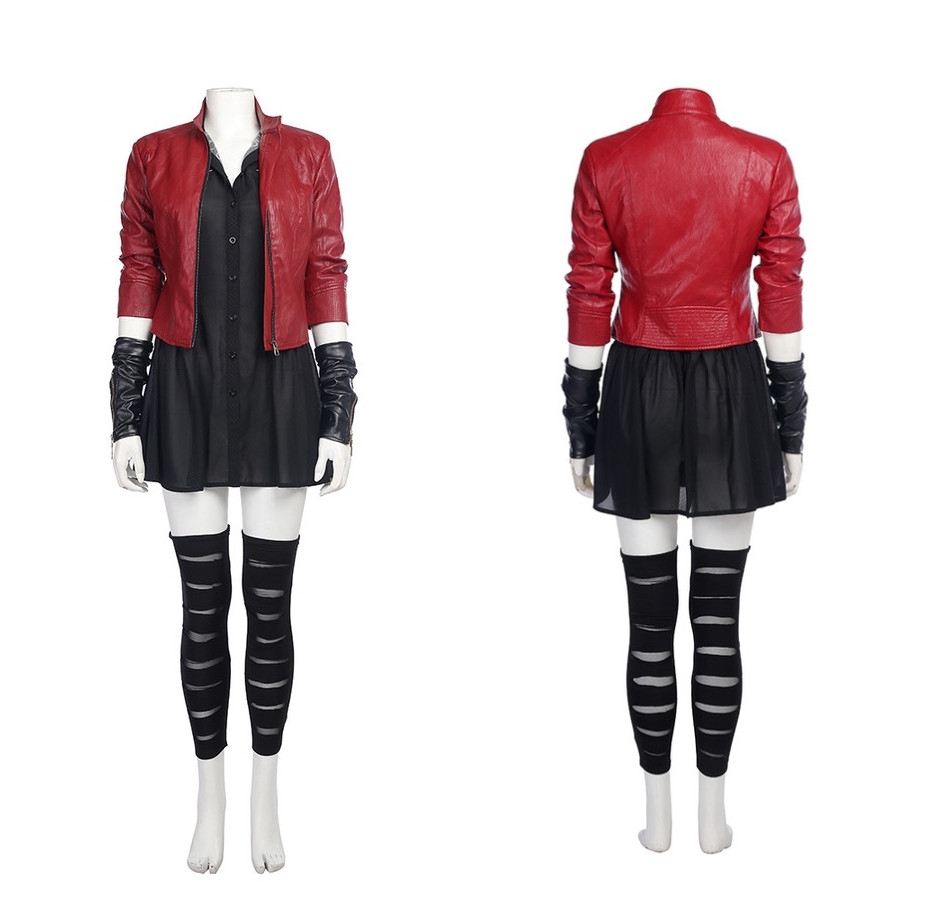 AVENGERS 2 AGE OF ULTRON WANDA MAXIMOFF SCARLET WITCH COSPLAY COSTUME
Everyone has their favorite superhero, and Marvel also offers a variety of superheroes for everyone. Although everyone has a different opinion about Scarlet Witch, in recent years, Scarlet Witch has a large number of fans. This role has attracted the attention of many people, both children and adults. If you want to attend a comic conference or you just want to cosplay someone, cosplay of Scarlet Witch must be a great choice. It will help you to attract others' eyes.
Scarlet Witch cosplay costume is not complicated, and it includes a top, a dress, stockings, and wristbands. Scarlet Witch cosplay clothing is easy to wear. First, after you put on your dress, put on your red leather jacket, then put on your wristbands and your stockings, and finally put on a pair of suitable shoes, it is almost finished. If you want to look more like Scarlet Witch in the Avengers, you can also spend your thoughts on your hair and make your hair the same as her.
Buying a suitable cosplay costume is also a very important process, but buying a perfect Scarlet Witch cosplay costume is not a very difficult task. You can go to the local cosplay costume store to find Scarlet Witch's cosplay costume. The advantage of going to buy at a physical store is that after you find this item, you can directly see whether it is of good quality. You can also try it on in the costume store to see if the costume is really fit you well.
If you don't have enough time to pick up your cosplay costume at a store on the street, you can go to the online store to find it. Online shopping can help you save some time to choose your cosplay costume because there are many online stores selling this cosplay costume, you just have to search and then a lot of choices will appear for you. HQCOSPLAY is a highly recommended cosplay costume online store, if you try to know something about it, you'll find it trustworthy.