Cosplay of Winter Soldier is always a great idea.
Winter Soldier is a superhero of the American Marvel Comics. It debuted in Captain America (March 1941) and appeared as the Winter Soldier for the first time in Captain America. Phase 1 (January 2005), created by Joe Simon and Jack Kobe. The real name is James Buchanan Barnes, the most intimate comrade of Captain America in World War II, and the most solid backing.
He died in the action of the end of World War II and was resurrected by the secret department of the Soviet Union, X Department. After brainwashing, he became the perfect killer "Winter Soldier" of the Soviet Cold War. Later, he resumed his memory in multiple contests with the Avengers and was invited by the Captain America to join the Avengers.
After receiving training from Captain America, Bucky Barnes became a master of Hand-to-hand combat, a martial arts expert, and skilled in using various guns and grenades and occasionally flying knives. He used to be a talented boy scout.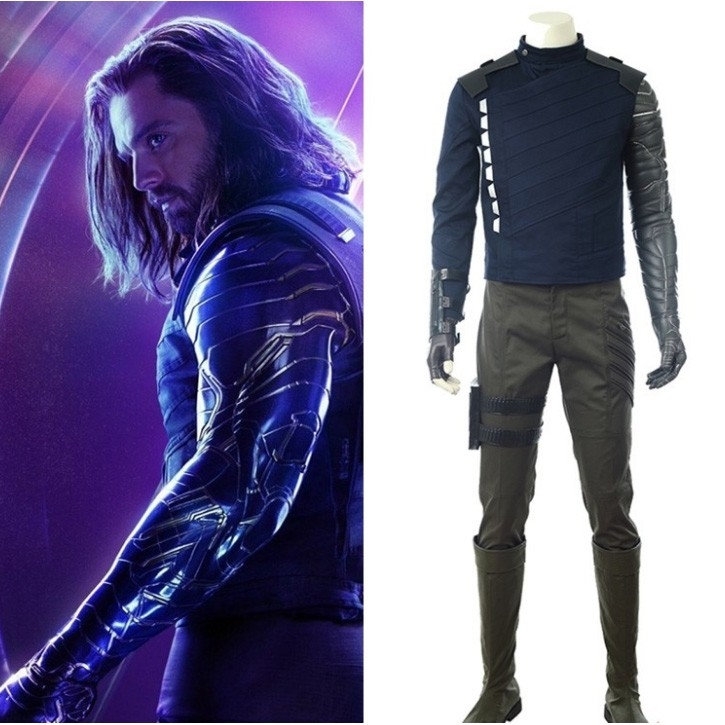 AVENGERS 3 INFINITY WAR WINTER SOLDIER BUCKY BARNES COSPLAY COSTUME
If you are planning to cosplay a character of movies or TV series or a comic story to take part in a comic event or celebrate a special day, and you don't know exactly who you should cosplay, then you can consider about cosplay of Winter Soldier. Nowadays, cosplay is becoming more and more popular, and more and more people like to express their love and admiration for a character through cosplay of this character. With the screening of the Avengers series, more and more people have known Winter Soldier, and Winter Soldier has won more and more fans with his personality and extraordinary skills. Therefore, cosplay of the Winter Soldier won't be a wrong choice.
It won't be a hassle for Winter Soldier's cosplay, which is relatively simple compared to the cosplay of many other characters. When cosplay Winter Soldier, you only need to prepare a coat, a top(includes the arm), pants, a cape, gloves, wrister, shoes, and a leg bag. All you need to do is put on your jacket and pants as you normally would, then put on your coat and cape, gloves, and the wrister. Put on your shoes after you put on your leg bag, but if one side of your leg bag is detachable, you can ignore this order.
Buying a cosplay costume is also an important step. You can go to a store and pick up your cosplay costume if there is one such cosplay costume store on your local street. In this way, you can buy a Winter Soldier cosplay costume without worrying about its quality. Of course, online shopping is also a good choice, but in order to be able to buy a cosplay costume that satisfies you, you must carefully observe whether the clothing store is reliable. HQCOSPLAY may be the store that can offer what you want.