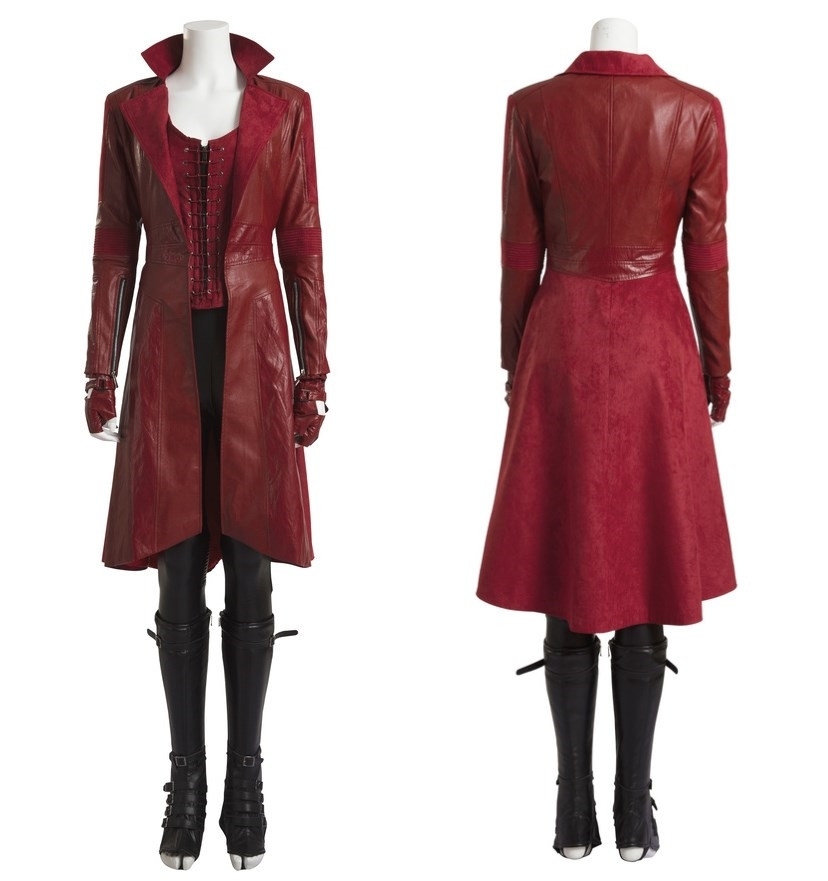 Wanda Maximoff is a teen imbued with alien DNA by a mad scientist to create super-powered humans to ward off advanced AI and superheroes in the movie Avengers: Age of Ultron. Wanda is excellent at combat and has mind-linked powers such as telekinesis, energy manipulation, and telepathy. That makes her called Scarlet Witch. But in Captain America: Civil War, she became a member of the Avengers and joined Captain America team in a division of Iron Man team. The Scarlet Witch is ready to do anything and everything for the people she cares about and all this ultimately makes her a super awesome character.
In our cosplay guide, we will provide all the items you need to create an MCU replica version of the Scarlet Witch costume for your next Halloween parties or comic cons.
Coat
Wanda is a waif-thin woman with long auburn curly hair often kept loose. In Captain America: Civil War she wears a long leather coat with a high roll collar and opening front. Among several Scarlet Witch images, this coat is one of the most famous and classic Scarlet Witch costumes. Made up of quality washed leather which provides a shining and cool look, this amazing coat also has inner faux leather flannelette lining for extra warmth and comfort. The stitched detailing around the waist creates a highly flattering fitted look. The beautiful hot red color makes it a fashion statement. The shining zipper is designed on each cuff, forming the Scarlet Witch cosplay costume a cool and fashionable look.
Vest
With the thread lacing along the whole length of the front, the vest features a decorative rivet and pointing bottom, imitating a corset style. Underneath the thread, a black zipper makes sure for no reveal. To match with the coat, the vest uses the same material with finely tailored. The fitted vest will make you leave a deep impression on everyone on your Halloween parties while wearing the Scarlet Witch cosplay costume.
Leather Pants
The pants are made of a glossy polyurethane leather in a contrasting black. They are form-fitting and full length with spandex material and you don't need to worry about the size nor movability. The pants are not just wonderful for Scarlet Witch cosplay costume, but you can additionally use it for other characters cosplay costume. With quality material and nice sewing, you even can wear it in daily life.
Shoe Covers
Scarlet Witch is always ready for battle and this means that she wears black leather combat boots. As shown in the movie America: Civil War, the boots are knee-high and decorated with many belts, the top, the ankle and full of the vamp. When you buy shoes online, you may be frequently bordered by wrong size and unfitness. So why not try shoe covers? They keep the original looking, combining with your fitted shoes and you will be perfect in Scarlet Witch cosplay costume.
Gloves
To finish off, finger-less gloves with an open back panel and buckle detailing. You are sure to look spellbinding. Using the same material of the coat, they match with the coat so well that you will not be able to differentiate between the original costume and yours.
Now it's time to fight against the guys who's once companions though. Hold your faith and be brave. You can find the original Scarlet Witch cosplay costume on hqcosplay.com. We do provide various high-quality cosplay costumes with very fast shipping and inexpensive prices.