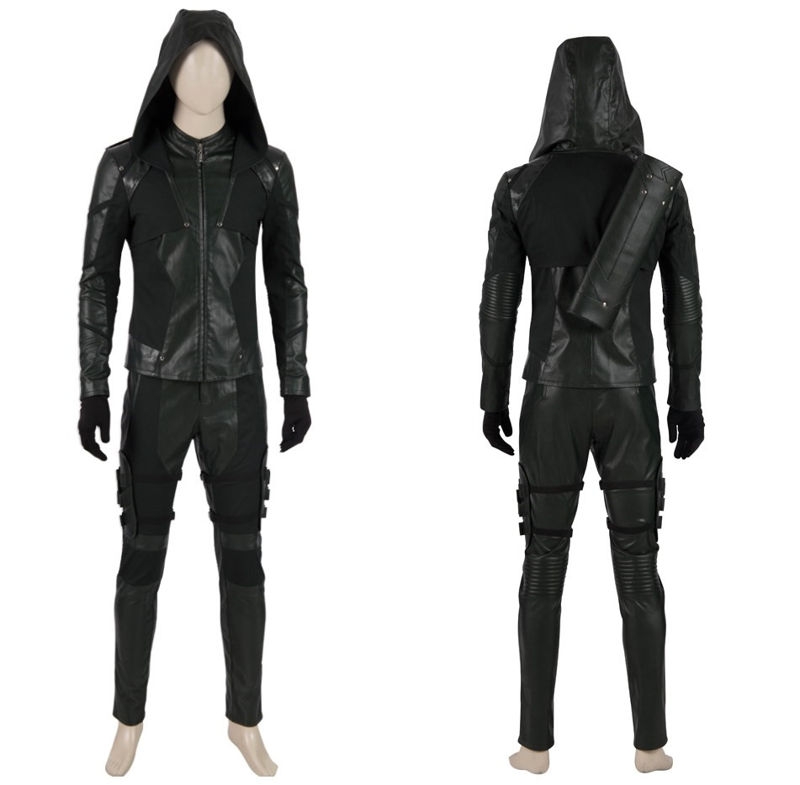 Making his Golden Age comic debut in a 1941 issue of More Fun Comics, Green Arrow immediately became one of DC Comics' most popular superheroes, alongside Batman and Superman. First appearing in DC Comics in 1941, this character has been made recently popular by the TV show. Arrow is a green-clad archer who is the hero of the fictional Star City. His real name is Oliver Queen and he is a billionaire businessmen and owner of Queen Industries. Commonly associated with the visage of Robin Hood, cosplaying as this character is becoming more and more popular in recent years.
As Green Arrow Season 8, also the last season of this series, the release date is coming soon, this character is the best choice of cosplaying on Halloween or costume parties.
Let us analyze the Green Arrow outfits and see what is needed.
Coat
The hooded coat is made from a mixture of quality PU leather to shine and style along with the black stretch knit that provides comfort while wearing. The high quality and trendy design ensure that you can wear this stylish coat for the years to come. Long zipper closure at the front of the chest goes all the length up to the stand collar. The Green Arrow cosplay coat is accurately made as shown on the TV that will make you attract all attention to comic-con or Halloween parties.
Pants
The pants will blend perfectly with the coat as they are produced with PU leather with added black knit. A unique design of fishbone shape leather stitched behind the knee forms an original version and looks fashionable. These fit pants have a zipper and a button at the front without an elastic waist, but with complete sizes to choose, you can buy the Green Arrow cosplay costume that perfectly fits you. Combining with the leggings which have arrow-shaped pleats, you will look more professional in Green Arrow cosplay costume.
Gloves
Apart from the costume, the leather gloves are used to protect hands, wrists from cuts, chemical spillages and hold arrows. Good quality leather gloves also help in the cold environment. An archer needs to take good care of his hands and keeps them warm. They play an important role in the Green Arrow cosplay costume and you have to get one.
Boots
Green Arrow wears a pair of black short boots with strip closure at the front. There's a piece of dark green leather around the top of each boot with Velcro closure, matched with the pants. The boots will add a complement to your everyday walk and also make a cool Green Arrow Halloween Costume.
Quiver
How could an archer have no quiver? Take this leather quiver to complete your Green Arrow cosplay costume. Using high-quality composite leather, the quiver is also finely tailored in detail. It forms the right size with an arrow shape leather on the surface.
If you have no idea where to buy this original look Green Arrow cosplay costume, you can check in hqcosplay.com. This elegant attire is gracefully designed and made with perfection. The accurate detailing will surprise you. We offer all the exact features that are based on the real one.