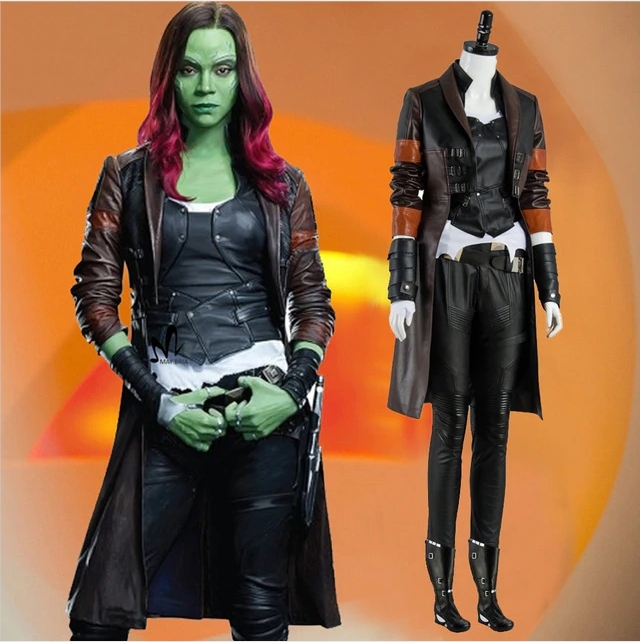 Gamora is the green-skinned alien heroine from Guardians of the Galaxy and has a close relationship with Star Lord. She is portrayed to have supernatural powers such as superhuman strength in addition to being able to heal at an accelerated rate. She is an orphan and the last survivor of an alien world whose entire race was destroyed in a deadly attack to bring the balance around the universe by Thanos. Gamora is a beautiful lady with shiny green skin and purple ombré hair. Inspired by her unique but awesome look, a lot of people like this girl and cosplaying as she becomes a hot trendy of Halloween and comic con.
Just like every superhero, Gamora has unique costumes. The most famous and classic costume properly is the one in Guardians of the Galaxy 2. It does help Gamora leave a deep impression on the audience. Lots of girls like to wear Gamora cosplay costumes for being such a tough and cool girl.
To gather Gamora's look in Guardians of the Galaxy 2, visit hqcosplay.com and bellow's a costume overview.
Coat
Gamora is a waif-thinn woman with long purple ombré hair often kept loose. In Guardians of the Galaxy 2, she wears a long coat which is a mix of black and dark brown leather with shawl collar and black buckles closure, but kept opening front. Two light brown leather pieces are added to each long sleeve which Gamora usually rolls up to near her elbow. This coat is made of top quality PU leather and finely tailored to flattering fitted style. It keeps the movie costume design in detail. You will attract all attention to Halloween parties in this Gamora cosplay costume.
Vest & Undershirt
The vest is made of pure black PU leather and features decorative rivets and stand collar, imitating a punk style. The fitted and cool vest associating with the coat will make you perfect on your Halloween parties. A white sleeveless shirt is needed. Underneath the vest, the shirt provides extra warmth and comfort while you wear the Gamora cosplay costumes.
Pants & Belts
Gamora wears black pants which match with the vest. The pants are made of a mix of cotton knitted and spandex leather, providing comfort and ease to wear. Combining with the black leather belt which is decorated with square rivets, the pants of Gamora cosplay costume gain a sense of motorcycle style. Adding a complex waist belt with a knife holster which is fixed on the left leg by a leather band, you will look awesome in the Gamora cosplay costume.
Boots
To improve the Gamora look, add black boots that appear like wedge shoes. The boots should almost be up to the height of the knees and have leather straps that will be used to fasten the boots to the legs. Also, more decorative straps are on the boots for a cool look.
Wristbands & Gloves
Gamora wears a pair of black leather wrist guards which ties up with leather bands. Like many heroines, she also wears a pair of fingerless gloves which are pure white. These accessories finalize the Gamora cosplay costume and help you dress more professional.