NieR Automata is a role-playing action game that Square Enix published in 2017. The players will be taking control of combat androids from the YoRHa units to fight enemies in real-time and in different game environments in the game. In this game, there are three protagonists, YoRHa No. 9 Type S, YoRHa Type A No. 2 and YoRHa No. 2 Type B. While the game has been getting great reviews, a lot of people have fallen in love with protagonist YoRHa No. 2 Type B, or "2B". She's a female android that has a thing for Gothic Lolita fashion and blindfold.
NieR Automata is so popular these days and cosplay as characters in this game also become so hot, like 2B cosplay. Here we have provided the version of NieR: Automata 2B cosplay costume for you.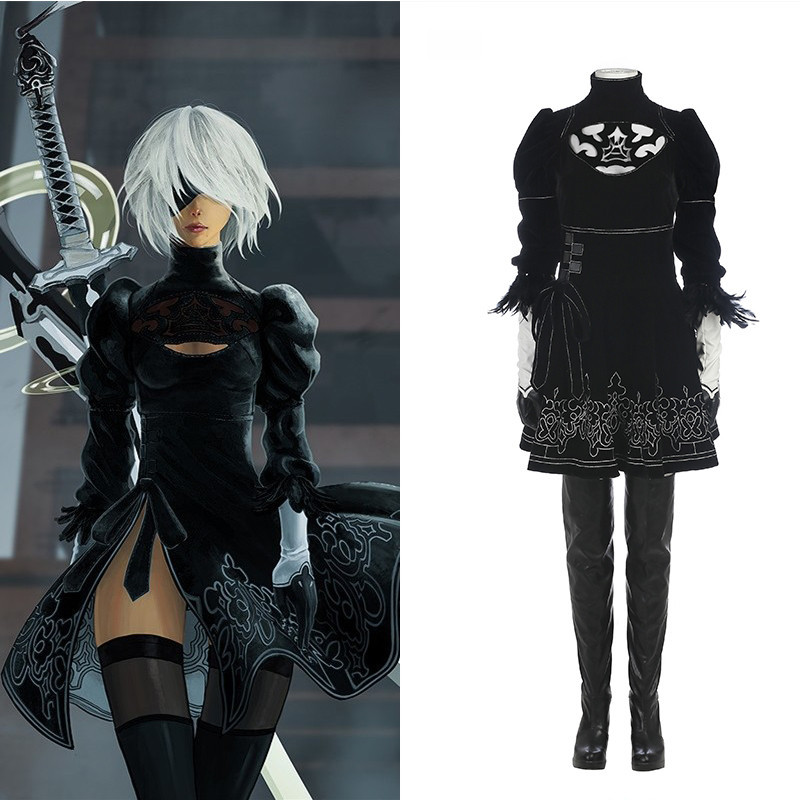 NIER: AUTOMATA 2B COSPLAY COSTUMES - DELUXE VERSION
Dress:
Usually, the 2B cosplay costume is available in black, which is the character's original color scheme. The whole set of 2B cosplay costume uses black velvet fabric. 2B's black turtleneck dress has the hole design near the chest area and also at the back, both of them covered by beautiful paper-cuts pieces, which make you look even sexier. It is edged with white embroidery, somehow adding a sense of elegant. The dress has a high stand collar, with an invisible zipper closure at the back. The cuffs are decorated with black feathers, looking very unique.
Gloves:
The leather gloves can protect 2B when she holds her various weapons and also a complement of 2B costume. The gloves are designed in Gothic Lolita fashion with two colors, the upper part is white and the palm part is black. They match the 2B cosplay dress very well. Notice that the invisible zipper closure will make them easy to dress and have no harm to the beauty of the gloves.
Boots:
It also comes with knee-length black heeled boots. They use comfortable material and have trendy style, with an invisible zipper closure up the whole length at the back, where decorated with cross straps. The best part is that this all-black boots can be used for not just 2B cosplay costume, but also various events.
Leggings:
The black mesh leggings are needed to combine with the boots that will make you look sexy and more professional in NieR 2B cosplay costume. What's more, the mesh leggings are made of soft handle fabric, so that they can be comfortable to wear and used in all kinds of activities, even in daily life.
Headwear & Eyemask:
These accessories play a big part in the 2B cosplay costume. They match perfectly with the sexy dress and complete the perfect NieR 2B cosplay costume. They also will complement any outfit you wear.
You can find the original NieR 2B cosplay costume on hqcosplay.com. We do provide a high-quality NieR 2B cosplay costume with very fast shipping and a nice price.