Ideas about cosplay of Thanos and how to get the right cosplay costume.
As the Marvel movies became more and more popular, the various superheroes or villains in the movie also had more fans. Today, many fans like to express their love and admiration for their idols through cosplay. If you are planning to go to a comic show or another cosplay-related event soon, you might want to consider Thanos' cosplay costume.
Thanos, the supervillain of the American Marvel Comics, debuted in Iron Man 55 (January 1973). He is an eternal family born in the Titans and is extremely powerful. This gives him strength, endurance, resilience, and agility that he cannot surpass. His skin is almost indestructible, especially when fighting cold, heat, electricity, radiation, poison, aging and disease. Before he becomes cursed by the Goddess of Death, he can survive without eating anything.
Purple rind with a giant vertical chin and a strong body, Thanos usually wears blue and gold dress with golden shoulders and gold short boots, while wearing a blue and gold helmet with gems on the forehead (Animated Avenger there are no gems on the Thanos helmets, such as the Guardians of the Galaxy, and the comics "Avengers" and "Thanos Reigns Supreme in THANOS: THE FINAL THREAT". The smashing of the comics "Rise of the Hegemony" is blue. Short boots with gold rims).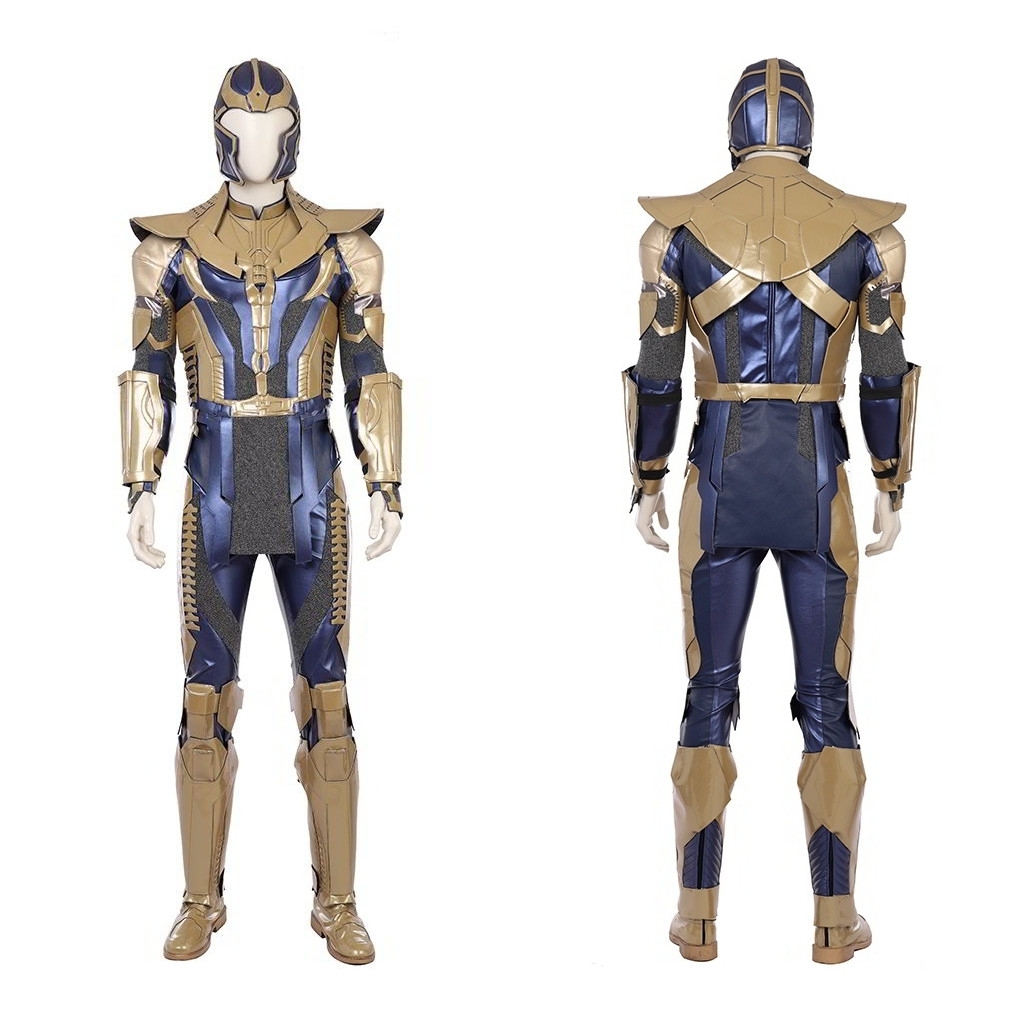 AVENGERS 3 INFINITY WAR THANOS COSPLAY COSTUME FULL SET VERSION
Before cosplay, you must have a certain understanding of Thanos cosplay costume. His cosplay costume is mainly made of leather.
Thanos' jumpsuit is long-sleeved. The shoulders and cuffs of the jumpsuit are gold and the middle parts of the sleeves are blue. The leather material makes the jumpsuit a three-dimensional look. Thanos' vest is mainly made of gold and blue. The pattern on the vest is symmetrical. You should put on the vest after putting on the jumpsuit.
Thanos' shoulder armor, leg protectors, shoes and armguards are also golden, and you should wear these parts after you put on the jumpsuit. You should just according to the guidelines of the order to wear this cosplay costume.
Thanos' helmet is also gold and blue. Put on your helmet and your eyes, nose, and mouth will be exposed. The helmet will only cover your cheeks. Therefore, you don't have to worry about that wearing this helmet will make you feel too hot and uncomfortable.
For this cosplay, buying a perfect Thanos cosplay costume is also an important step. You can go to a local cosplay costume store to buy, but if you want to save some time and money, you can choose online shopping. You can't directly see the quality of your cosplay costume when you buy it online, so be sure to choose the reliable store you are buying before your purchasing. Otherwise, you will probably buy an unsatisfactory cosplay costume, which will affect your cosplay experience.
HQCOSPLAY offers high-quality and affordable cosplay costumes, and also offers excellent customer service. If you buy here, the staff will always be prepared to help you before and after your purchase.